VIRTUAL Gathering of the Shamans
Dec 3, 2021 - Dec 5, 2021
ZOOM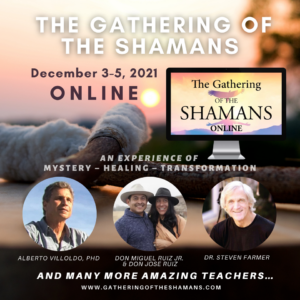 This live, interactive video gathering takes place via ZOOM and includes Dr. Alberto Villoldo, don Miguel Ruiz Jr, Sandra Ingerman, and many other leading teachers and shamanic practitioners. This online weekend event is designed to invite you into a deep experience of your own true nature using time-honored shamanic practices.
Event Highlights:
INTERACTIVE workshops with leading shamanic teachers and healers
Video Replays for all sessions so you won't miss a thing and can watch again as often as you like for up to six months
A special event app that allows you to connect with other attendees in real time
Click here to learn more: https://bit.ly/3BilEpR
Messages from the Ancestors
At The Gathering of the Shamans Online, I'll be teaching a workshop on your ancestral origins, and how to communicate effectively through them. Your ancestral lineage reaches back to the very dawn of human existence, and this incredible inheritance includes not only your human forebears but all beings on this planet—and beyond. The very substance of our physical bodies is composed of elements of the earth and the stars. In this workshop, I will help give you the keys to tapping that vast wisdom and guidance, and the power to awaken hidden untapped potential within you, helping you find your own answers to life's most persistent questions.
Come solve all your ancestral questions with me!
Secure Your Spot  HERE.
Register
---