Heal + Create: A Virtual Retreat
Feb 4, 2022 - Feb 18, 2022
ONLINE
A Virtual Retreat with a Plan!
This two-week experience begins with a keynote workshop by Jacob Nordby, in which he will lead you through the Creative Cure personal assessment from the book as a way to set your course for clarity and maximum value from this retreat.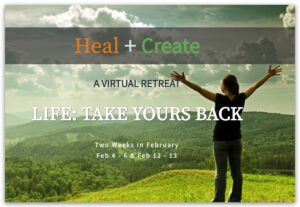 As you complete this assessment you will gain:
• Insight into precise areas of your life that need healing and restoration
• Relief as you acknowledge what is already working well
• Courage to focus on creating more wholeness and joy
• Clarity about the vision for this year as the author and artist of your life
What to Expect
Healing from Trauma
With a gentle focus on your present life and what you need to experience more wholeness in the present
Anxiety Relief Tools
Learn how to access your inner peace, resourcefulness, and power with proven leaders in mindfulness, movement, and neuroscience
Redesign Your Mind
Make your mind your greatest ally as you erase and reprogram old beliefs and programs that have always blocked your progress in the past
Creative Guidance
You are meant to create a life that matters – to you! Experience the joy, healing, and freedom that come with creating
Step-by-Step Practices
This event is focused on simple, practical experiences that you can take home and integrate immediately.
Virtual. Don't Leave Your Home
Each session is offered in an interactive webinar format. Join us from where you are without ever leaving your home.
Dr. Farmer will be offering the Keynote Workshop on February 5th:  FEEL IT TO HEAL IT!  There are over 15 other speakers presenting throughout the retreat including Jacob Norby, Julia Cameron, Lisa McCourt and many more!
Early Bird Pass
$199
or 3 Payments of
$68.50
While Early Bird Passes last
Good for the first 200 registrants!
Regular Passes $249 for next 200 registrants
Late Registration $349
Highly engaged sessions with leading healers & creatives
Two weeks of healing, growth, and integration
Specific, research-based practices
Video replays available for 6 months – all sessions
Community for continued growth
90 Days of FREE Institute of Creative Living membership
RESERVE YOUR SPOT HERE
Register
---