Gathering of the Shamans 2020
May 3, 2020
Sedona Mago Retreat Center
A Weekend of Mystery & Exploration
with don Miguel Ruiz & other leading shamanic teachers including:
Dr. Steven Farmer, don Miguel Ruiz Jr., don Jose Ruiz, HeatherAsh Amara, Linda Star Wolf, Dr. Marie Mbouni, Randy Davila, Jacob Norby, Itzhak Beery, Porangui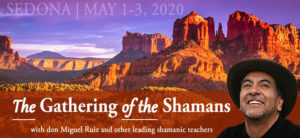 Long before religions were organized, there were shamans. They practiced a form of direct experience and revelation that dates back more than 40,000 years. They served in a unique capacity that combined skills of a psychologist, spiritual adviser, healer, philosopher, and friend.
They used rituals, tools, and wisdom to provide guidance and healing for the people of their tribes.
Their magic was largely lost to the world with the progress of science and technology, but the spark of that fire never completely went out.
Modern day teachers have reached back through time to reclaim these practices and integrate them with our contemporary lives.
Join us in the mystical setting of Sedona to meet the leading shamanic teachers of our day.
This is a once-in-a-lifetime chance to retreat from your usual patterns of living and learn how to harness your inner power in entirely new ways. You will return to your life with fresh vision and know how to create your own reality as the work of art it was meant to be.
This gathering will be held at the Sedona Mago Retreat Center, which is operated by Tao Fellowship, a 501(c)(3) nonprofit organization whose mission is "Love Humanity, Love the Earth."
Surrounded by red monoliths, Native American ruins and majestic mountains, the Retreat Center offers 163 acres of beautifully landscaped land honoring Mother Earth's treasures. Designed to work with the natural healing energy of Sedona, you can relax and rejuvenate body, mind, and spirit.
Please click here to view full information about the Retreat amenities
The Main Event program begins Friday night at 7 pm, but we encourage you to arrive as early as 1 pm on Friday to familiarize yourself with all that this unique setting has to offer.
Dinner will be served for all participants at 5:30PM on Friday, and retreat staff will offer group tours of the property so you can learn about the energy vortexes, labyrinths, and other natural wonders.
The retreat will end Sunday afternoon at 1 pm, and our teachers have specifically asked that the schedule of events not be posted.
Instead, you are invited to surrender any preconceived ideas, assumptions, or expectations you may have about this weekend, so that you may experience a powerful Shamanic retreat unlike any other.
Want to find out how seeing the world through different eyes can have dramatic impact in your life? Join us in Sedona…
Along with ample time set aside for personal reflection, nature exploration, and fellowship, you will experience the following:
• Shamanic meditations
• Shamanic Breathwork™
• Guided labyrinth walking
• Vortex healing
• Yoga sessions
• Ecstatic Dance with Porangui
• and more…
While the Gathering of the Shamans will include mystical elements, it is designed to have real, practical results in your daily life.
• Relationships
• Soul purpose guidance
• Recapitulation & energy release
• Creative Expression
• Abundance
• Life integration
• and much more…
MAIN EVENT All-Inclusive Tuition
Your ticket to this event includes the entire program of sessions with all of the teachers and full room-and-board in Sedona Mago's comfortable quarters. You will enjoy the entire spectrum of this retreat's amenities—all included in the cost of your tuition!
**During checkout for your Shared or Private Room tickets, you may also select one or more of the Optional Pre or Post-Conference Intensive Workshops.
A very limited number of passes at the super early bird low price are available–please claim your spot now!
Register
---