2022 Spirit Quest
Apr 1, 2022 - Apr 3, 2022
4:00pm-3:00pm
Joshua Tree Retreat Center
---
This event is now Sold Out. If you are interested in being added to the Wait List, please complete the form below.
---
Ready to charge full speed ahead into an amazing spirit quest?
Then join me, Dr Steven Farmer and medium, Marisa Ryan for an incredible Spiritually-based weekend focused on you and helping you live your best life.
What to expect
During this transformative weekend, you'll experience inner peace, personal power, and a more intimate connection with yourself and those you hold dear. You'll learn that life doesn't have to be hard and that your past needn't hold you back. By the end of the weekend, your future will look brighter, your energy will be enhanced, and you'll be happier and better prepared for life's challenges.
What's included in the experience: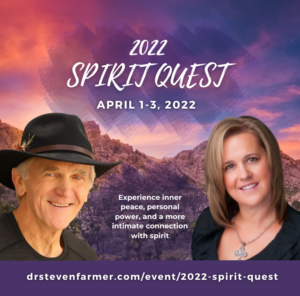 Meet your Spirit Guide and learn how to communicate with them
Learn grounding and protection from negative energies
Learn about metaphoric death and rebirth
Banish what doesn't serve you
Open your psychic senses to enhance your life
Commune with nature for messages
Experience a Shamanic journey
Walk the labyrinth of life
Take part in group healing sessions
Discover the power of soul retrieval
Learn the art of forgiving
Develop action plans for success
Receive messages from Spirit
Meet amazing people
Learn the tools to a better life
Included in the price: 5 delicious meals and 2 nights of accommodation in a shared room with a shared bathroom.
* No refunds after March 20th, 2022.
Discover more about the Joshua Tree Retreat Center HERE.
Learn more about Marisa Ryan HERE.
---